How Does Professional Teeth Whitening Work?
A bright smile is a powerful way of communicating and connecting with people. But when your teeth have stains, you will be self-conscious every time to smile. The good news is you can get rid of the stains in your teeth and go back to your sparkling smile. So how do you remove the yellowing in your teeth? You have probably heard of teeth whitening products and formulas in the market, and you are wondering whether they work. Irrespective of their effectiveness you shouldn't go around buying any teeth whitening product some may have adverse effects on your teeth. If you want to remove stains from your teeth, you should seek professional advice on the best products. Read on to find out what professional teeth whitening is, how it works, the effects, and whether it is right for you. We recommend
Smile Aesthetic Clinic
in Cardiff. They use 
Boutique Whitening
, which is a quality, prescription-strength teeth whitening system that delivers superior results
What is Professional Teeth Whitening?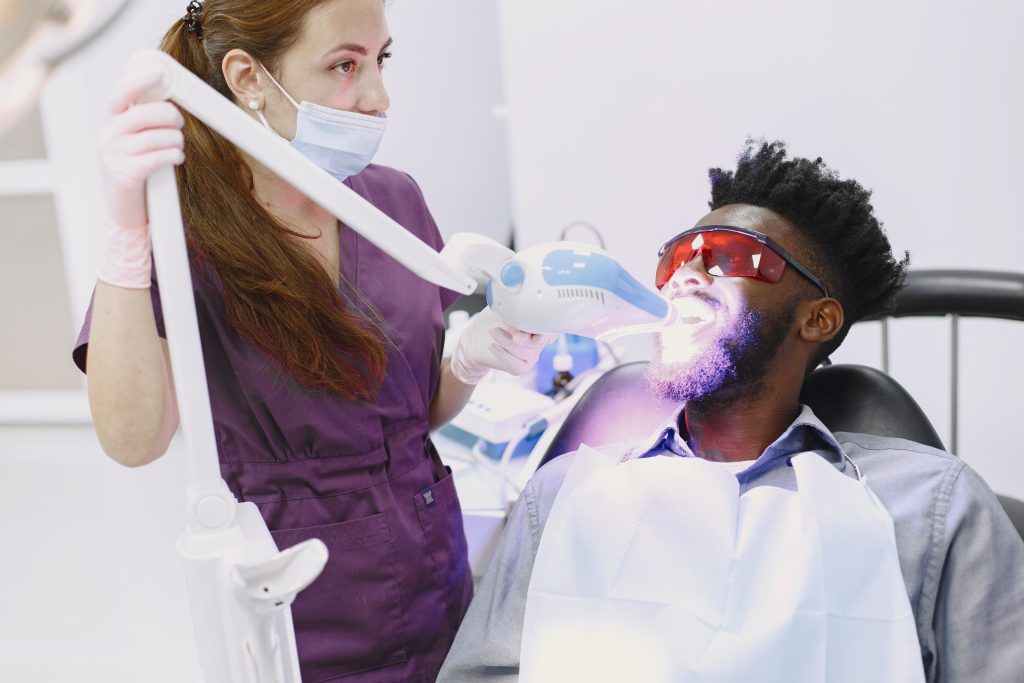 After years of smoking, drinking coffee, and taking red wine, your teeth are bound to discolour. To regain your dazzling smile, you need to whiten your pearls. Professional teeth whitening involves removing the stains and bleaching your teeth to make them whiter. Whether at home or a dental clinic, professional teeth whitening may use bleach or non-bleach products, but the result is sparkling white pearls.
How Does Teeth Whitening Work?
You can either get a professional at-home whitening kit or an in-office whitening procedure. Both procedures use peroxide bleaching agents to remove the stains on the enamel. If you plan on getting an at-home whitening kit, ensure you buy the package from your dentist to obtain better results. Your dentist will prepare custom dental cups that will fit your tooth. The dental trays hold the gel that will bleach your teeth. With dental cups, you can fit them for an hour every day for two weeks to get the desired results. The downside of dental trays is they will not whiten the crowns of teeth, but they work better than over-the-counter drugs.
A dentist does In-office whitening, and you will get better results because they use a stronger bleaching solution and have experience in dealing with various stains. The procedure may take two hours or may require a couple of visits before you get the desired results. Before a dentist does anything to your teeth, they will record the original condition of your teeth. Photographing helps in monitoring the effectiveness of the procedure. The dentist will clean your teeth using pumice to get rid of plaque on the surface. Next is separating your teeth using gauze to keep your teeth dry before applying the whitening gel. The whitening gel stays on your teeth for about an hour before rinsing.
Applying the bleach on the surface will remove extrinsic stains. However, you may not get the expected results if the stains are inside the teeth. Most extrinsic stains are the yellowing on the enamel caused by food consumption or smoking. Intrinsic stains often result from fluoride inside the teeth. Applying hydrogen peroxide removes both intrinsic and extrinsic stains. If that doesn't work, the dentist will apply whitening agents inside the tooth and fill it temporarily.
Despite the affordability of at-home whitening kits it is advisable to go for an in-office procedure. Sometimes you may apply the excess whitening gel, which can cause future problems in your teeth.
Are There Side Effects?
You will rarely experience any side effects after a teeth whitening procedure. A common side effect is gum sensitivity, which is usually mild and temporary. Sometimes you will experience gum irritation which won't last long. However, some people may have adverse reactions to the procedure. If your gums become pale and sore, you should visit your dentist for a check-up.
Is Whitening Right for You?
Professional whitening is ideal for anyone with stubborn stains and discolouration on their tooth. If you have healthy pearls and gums, the bleaching agents used in the procedure will have no side effects on your teeth. If you have tender gums, bleaching may cause sensitivity. Whitening may not be a good idea for someone who has had previous procedures done to their teeth. If you have had a filling, you should seek advice from your dentist. They will discuss with you the available options and if you should go through with whitening. Generally, professional whitening is for people with healthy teeth. Therefore, if you practice oral hygiene, your teeth and gums can withstand the chemicals in the whitening gel.
Teeth whitening is not a permanent solution. Therefore, if you don't make some lifestyle changes, you will be going for re-whitening within a short time. To reduce discolouration, you should quit smoking and avoid eating sugary foods that leave stains on your teeth. Practising dental hygiene also reduces stains and yellowing of your teeth.