Having a home office can be very beneficial. It allows you to fulfil your work duties without worrying about the environment. However, not everyone has the luxury of space in their home. Therefore, most of the time, you have to create a makeshift home office in a small space. Below are our tips on how you can do this.
Find the Right Space 
The first tip for creating a home office is finding the space for the office. You do not need to have a particular room designated for your office tasks. You can always create a workstation despite the limited space. Below are some options you have to make an office with limited space;
Consider a Dual-Purpose Small Home Office
If space is a problem, it does not mean that you cannot create a small home office space. All you have to do is create multiple uses for the available space. For instance, you can start by looking for areas in your home that you do not use commonly. For example, if you have a guest bedroom that is not used as frequently, you can transform it into a home office by adding some small office furniture. The room can still serve as a guest room when you have visitors. You can also add multi-purpose furniture like a desk that can efficiently serve as a dressing table.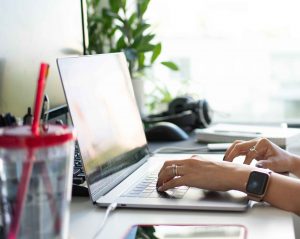 Convert Your Children's Room into an Office
You can do this by getting a bunk bed. Doing this will afford you some space to create your home office. It will also save floor space under the bunk bed where you can have your office desk. The desk can also double as a homework station for your child. 
Make Use of Underused Areas in Your Home
Such areas include under the stairs, large landings, dining rooms, and hallways. Instead of letting these areas remain unused, you can transform them into a home office space. 
Invest in Compact Office Furniture
A significant part of creating a home office is finding the best furniture. Office furniture can go a long way in transforming a simple space into an office space. They also create a difference between your office space and the rest of your home or living space. Therefore, one of the first things you should do when creating a home office is getting office furniture. If you are working with small office space, then D&G Office Interiors supply a vast range of office furniture options. Our suggestions of furniture to invest in include;
Compact Computer Desks
You can get a compact computer desk in any shape or size. Compact computer desks will serve their purposes and not take up a lot of office space. This gives you free space to have other things. It would help if you got a desk with convenient elements like built-in shelving, overhead compartments, and trays for your keyboard. These elements will maximize your storage space. 
Corner Computer Desks
These products will also help you maximize the small space available in your home office. These desks also provide you with more workspace than their counterparts. You can always opt for ergonomic corner desks that help reduce strain on your body and enhance your productivity. It would also help if you considered corner desks with added features like overhead shelving and storage units. 
Printer Carts
These products make the perfect tool for a home office with limited space for large pieces of office hardware, like printers. They also keep them out of sight, hence eliminating office clutter. These carts also have built-in shelving that can be used for additional storage. 
Multi-Purpose Shelves
They provide ample storage space that would otherwise go unused. These shelves can be used for storing things like office supplies, books, and office décor. It would help if you got shelves with wheels to allow you to move your office setup frequently. The portability will become highly beneficial. 
Ergonomic Desk Chairs
Ergonomic chairs are mandatory office furniture that can also be used for other tasks in your home. It would help if you opted for slender chairs such as the Semotion desk chair that is both space-saving and supportive. However, if you wish to save more space, you can always opt for a standing desk that will not require a chair. 
Storage Cabinets
Are also perfect for small office spaces that need additional storage for paperwork. It would help if you had a filing cabinet that you can easily store under your desk or push inside your closet for a small office. 
There are many tricks to tackle working from home but there are ways you can create a home office in your dining room, spare room, under the stairs, and in your child's room. The trick is to use compact office furniture and find ways to use the available space for multiple purposes.