Benefits of choosing a glass staircase for your home
Over the past couple of years, glass staircases have increasingly become popular. Not only do they add a modern feel to homes but also incorporate style and elegance to the architectural aesthetics of living places. Wood, stainless steel and concrete staircases have been replaced by glass staircases due to the aesthetic appeal and numerous benefits. Choosing the right material for your staircase can be daunting, but working with a specialist company like Jarrods Staircases, you will know you have made the right decision. Below are the benefits of choosing a glass staircase for your home.
Safety
Safety first! There may be concerns that glass is not safe for use as stairs when compared to other materials. However, glass staircases are safe since the glass used in staircases is thick and shatter-resistant. Also, they are strong and can endure shocks, impacts and daily wear and tear. Glass staircases provide a better option for those who have small children at home. A glass staircase has no gaps and thus there are no intriguing gaps which the children can stick in or even fall from the stairs. Some glass staircases have metal fittings that hold the glass firmly into position. This results in a secure and great-looking structure that is strong and long-lasting.
Durability
Everybody wants their staircase to last a lifetime and look good. The conventional wood is prone to rotting or attracting insects that degrade it over time. However, a glass staircase is made of sturdy toughened glass that cannot rot or develop the problems of insects such as termites. Glass staircases are easy to clean and maintain, they retain their aesthetic appeal over time and have a long life span. Glass does not chip, dent easily or scratch and this makes them the most durable option for use for staircases. If scratches happen there is a special polish that can be used to restore the glass which is an advantage when compared to wood staircases.
Cost-effectiveness
When compared to other staircase materials, a glass staircase will save you money. Glass has a long life span, does not decay or corrode and it is hard-wearing. After the initial investment of installing a glass staircase, maintaining it is low as compared to wooden staircases. Wooden staircases are expensive to maintain over time with paint, polish or devoting hours. Glass staircases are easy to clean and thus you will save time and money. A glass staircase is an investment in your property that will attract many buyers and add value to your property.
Versatility
Glass staircases perfectly blend in with every interior, be it a family home or office building. In a home, glass stair panels bring in a sense of freedom and light while in an office it brings a professional look. Glass is a versatile material, it works well with new and old homes. It can also work with other materials such as metal, stone and wood which can be used to incorporate glass into the staircase. In a large commercial building, a glass staircase is perfect whether it is a few steps or several flights. A glass staircase is customizable depending on the homeowner's taste and this works best for the property, your budget and your style.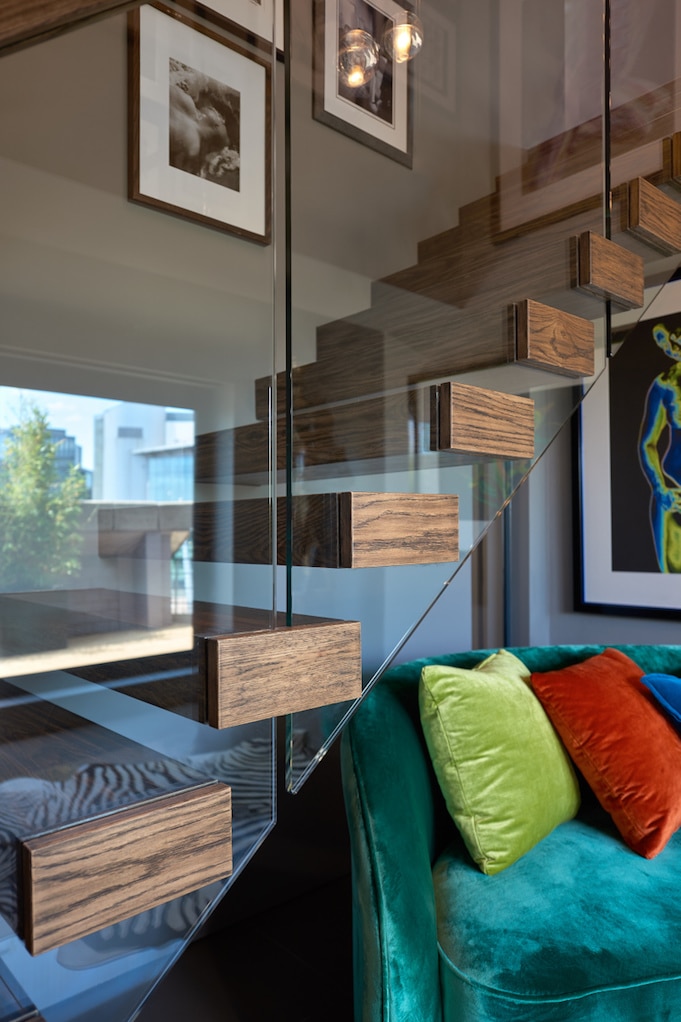 Design and style
The design of a glass staircase is one of its most attractive features. If you are looking for a modern addition to your home, glass is your option and also for its stunning feature. Another benefit of having a glass staircase is that it brings sophistication to your home making it even more stylish. Using a glass staircase you can create a contemporary feel. A glass staircase has minimal lines, it is sleek and blends in with the styles of your décor. Glass provides room to try different design trends. Glass can be combined with other fittings or stand-alone giving an adventurous effect.
Light and airy
Unlike conventional staircases, glass staircases allow light to pass through them making the home aesthetically appealing. Conventional balustrades have an intrusive and heavy look, which blocks the flow of light and creates a visual barrier. This makes the hallway and rooms less appealing, small and cramped. A glass staircase is well suited for smaller spaces since it allows more natural light in, making the rooms bigger and taller. By reflecting natural light, the rooms feel more airy and breathable even without opening the doors or windows.
Final thoughts
The above are only the tip of the iceberg as to why glass staircases have become one of the most popular interior design trends. You can never go wrong with adding a glass staircase to your home. What are you waiting for? Upgrade your home with a glass staircase and enjoy its benefits.