Mediterranean style interior design is much more of a contemporary style with fancy and exquisite designs that are worth going for. It is no surprise that millennials opt for the Mediterranean interior décor when it comes to house buying. The open floor plans and beautiful outdoor areas are aesthetics that are simple but portray warmth and romance.
Furthermore, this granny chic style is a perfect fit for anyone who loves simple yet elegant spaces. Drawing its inspiration from Spanish and Italian architecture, the blend gives a modern twist. A touch of warm colours and natural elements like stone and marbles define a bold, urban home design. Therefore, these striking mid-century designs will stick around for some time.
Mediterranean Interior design
from the exquisite patios to the stunning interiors, the Mediterranean embodiment gives a modest space. The warm colour scheme gives a house a cosy warm touch that is extended by an expansive space of an airy open floor. Besides, The combination of handmade wooden furniture, small antiques and sunny colours seamlessly transition to a simple yet appealing look.
1. Floor
Mediterranean homes are characterized by spaces with indoor-outdoor living and spacious open floor plans. The open floor's interior design is for eye-catching ceramic tiles that have a balance with the wall and ceiling colour scheme. A soft mat comes in for warmth.
If you love patterned stuff, you can go for hand-painted or terracotta tiles. The classic, unique details and colour pop on them adds decoration to the floor.
2. Walls
The wall paint is usually an iconic crispy white to give a brightened interior for a relaxed aura. However, modern design tends to sophisticated warm colours that recreate a simple, cheerful ambience. Colours such as turquoise, lavender, or blue in the interior give comfort during summer. The inclusion of sunny tones with a deep yellow in the painting of walls makes your space cosy.
The bright colour touché will eliminate your need for wall claddings or wallpapers. In any case, cover the stone walls with a light shade or a warm colour to make your interior distinctive
3. Fabrics
Light, airy fabric with simple patterns is suitable for curtains, especially since the area is warm and you need a nice breeze. Perhaps, you can go for fabric with the texture of your like; they do have common features. Maybe you avoid curtains that have lambrequins or tassels.
4. Ceiling
Ceilings in Mediterranean homes are high and finished with neutral colours like beige or milk-shade. For instance, for decoration, you can opt for the grey or dark brown wooden beams, they are perfect for spacious homes. Beige paint in apartment ceilings gives depth to the living area.
5. Furniture
Interior décor finishing and furniture should be exclusively natural or wooden materials. Dark wood and walnut wood furnishings blend nicely with the warm colours. Additionally, you can go for what suits your creative taste and how you want your apartment to look like.
The loft-style interiors with a touch of natural elements are part of the modern Mediterranean interior designs. A combination of handmade wooden furniture, small antiques and bright warm walls make your home look best.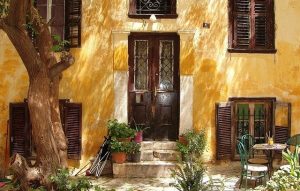 You can include; Sculptured stone, glass and wrought iron, they have natural tones that are enhanced by the bright colours. Besides, when you choose accessories, it is good that the functional ones come first. This will help you avoid cluttering your space with unnecessary stuff.
Mediterranean touché gives no room for many things. Nevertheless, soft furnishings like cushions give your space unpretentious beauty. Mosaic elements like chipped mirrors or tiles on the kitchen wall or hallway give a simple luxurious flair.
6. The living-kitchen-dining area
The open floor plan of most Mediterranean interiors is never going out of style. It borrows from the Italian and Spanish designs of open-air spaces. It includes the lounge area, kitchen and dining area. The indoor-outdoor area is something to look out for.
The kitchen living area is a stunning expansive space and you should furnish it with fewer elements. Consequently, you can go for sunny neutral colours or sandy shades just as it suits your taste. The kitchen cabinets should be of natural wood with metal or ceramic fittings. If you have open shelves, display any beautiful accessories or maybe bright colour utensils and dinnerware.
Ceramics make up the tabletops and sinks of the kitchen interior. As much as it is a huge open space, you can separate the kitchen and dining area with a ceramic or natural stone counter.
7. Bedroom
The crispy white interior gives the comfort appeal. Also, the decorations are kept symmetrical to tone down any extra colour. The white on white fabric makes it inviting and warm. A unified look is to make the place relaxing with the wide 12 inch archways for the free flow breezes.
Final Thoughts
Mediterranean interior designs aim for cosiness and unique expansive spaces. The contemporary aesthetics are to go for in this era.