Your hair might be one of the first things that others notice about you. So it makes sense that you always want it to look its best. For many, thinning hair or strands that simply don't grow that long can get in the way of the style you want. When that happens, extensions are a viable option for creating a thicker, longer head of hair that you can still style the way you like. On top of this, there are numerous brands to choose from, from LA Weave to Remy and Beauty Works. However, wearing them can be tricky so make sure you learn how to get them inserted into your existing hair so that they look and feel natural. If you are unsure, speak to your stylist about what options would best suit your hair type. Aurora Cardiff offers clients unsure about what kind of extensions they would like a free 30-minute consultation to address any questions they have.
Still on the fence? Here are the top five benefits of wearing extensions.
They Add Lots of Volume to Your Hair
One of the best benefits of wearing hair extensions is how much volume they add to your hair. When placed properly, hair extensions help make your hair look thicker and fuller so that you can style it in many ways. Extensions can also be used to add length to short hair. 
If you usually have a short, thin style, extensions are an easy way to transform your entire look by making your hair look longer and thicker. They're also ideal for times when you get a haircut that turns out shorter than you wanted, and you need to disguise it until it grows back out. For this to work well, be sure you choose extensions that are the same colour as your natural hair, so they blend in.
You Can Try Out Different Colours and Styles
Another great thing about hair extensions is they allow you to experiment with other hair colours, without the commitment of going permanent. Use extensions to see how your hair would look with highlights or use them to add a pop of colour for certain events. Bright colours, like purple, pink and turquoise are trending right now, but aren't always appropriate for all times and places. 
Using temporary extensions lets you take advantage of a cool new trend for times when you can make it work and are easy to remove for places when you need to stick to your natural colour. The best part is that if you don't end up liking the colour, you can get rid of the extensions and try something else.
They Can Fix a Bad Haircut
As mentioned above, hair extensions are ideal for helping repair the effects of a bad haircut. Whether your stylist cuts off more than you wanted them to or you end up with a style that doesn't flatter your face or personality, hair extensions can rescue the situation and give you back the confidence and style that you want and need.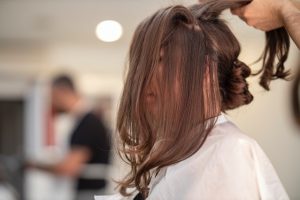 Again, for this to work well, you will need extensions that blend with your natural hair colour and that look nice when attached, hiding the fact that you got a haircut that you don't like. Eliminate embarrassment and poor self-confidence by using hair extensions when things at the salon don't go the way you wanted them to.
Hair Extensions Won't Damage Your Hair
Unlike some of the other methods used to thicken your hair or add volume, extensions don't cause the same kind of damage as alternatives that require tape to attach or bonding, which can cause damage to your scalp and existing hair. 
Quality extensions won't harm your hair or your skin and will look natural for many months. They will not interfere with natural growth either so you can enjoy a fresh, new look without worrying that your hair or scalp will pay the price. It's never been easier to try out a new colour or a new style without worrying that your natural hair will be affected, so now is a great time to give it a try.
Easy to Use and Low Maintenance
Of course, you want your hair to always look its best, but you likely don't have the time or the inclination to spend too much time getting it perfect. That's another reason to choose hair extensions. They're simple to use so you won't have to spend a lot of time placing them. Because many of the clip into your existing hair, all you have to do is decide where you want them and put them there. 
In no time at all, you have the style you want and can get on with the rest of your day. At the same time, hair extensions are easy to take care of, so you won't be spending a lot of time on maintenance. Because the extensions are already styled, you won't have to spend any time getting them ready to wear. They're also easy to take care of when you aren't wearing them. Follow the manufacturer's directions about how to properly clean and comb your hair extensions.