Nothing is more frustrating than being locked out of your house. You have to endure the cold as you wait for help, and you risk being accused of breaking into your own home. While being locked out is not a significant disaster, it can be a bummer, especially at night when you had a long day.
If you are locked out of your house, try the following:
1. Call a Locksmith
This is probably the most obvious and used option on this list, however, the main reason people usually try to find a way around choosing this method is due to the cost. An experienced locksmith, such as Tony's Locksmith in Cardiff, can resolve your problem without damaging your property. Their experience in dealing with locks helps them understand the nature of your locks at first glance and provides a quick solution. You also don't have to stress yourself looking for tools since they come with various tools for dismantling your doorknob with minimal damage to it. Besides, if you lost your keys, they can replace your locks immediately and give you a new set of keys. Calling an expert is more convenient than calling a friend for a spare key. Most locksmiths have service providers locally who can get to you faster.
2. Call Your Neighbour or Landlord
If a family member has your spare keys, you can call them to bring your spare keys. If you live in a rented house, calling your landlord is the best option. Landlords carry spare keys for the apartments they manage, and they can save you the trouble of waiting for spare keys. Besides, if your property owner does not have a spare key, they can help you break into the house. You can also call your neighbour and check if they have any solutions to your current predicament. At least they can help you pick your locks, lend some tools for breaking in or help you climb a window.
3. Break-in
If you need to get into the house urgently or you left your kids inside, kick in your door to open it. A swift, hard kick near the doorknob
should do the trick. However, you should avoid breaking in through the front door. Someone may think you are an intruder. Kicking in your back door is the best option. You should also avoid breaking in through your windows due to the danger involved.
Instead of kicking in your door, you can take apart your doorknob using a paperclip, screwdriver, or a hammer. If you do not have any tools in your backyard, you can borrow your neighbour's screwdriver and hammer. To disassemble the doorknob, remove the screw that holds it in place and use your paperclip to remove the hinge screws. You can also remove the hinges without removing the screws using a nail and a hammer. You should place the nail at the hinge opening and hit it to dismantle the hinges.
4. Improvise Using Available tools
Many DIY tricks can help you unlock your door. Apart from the paper clips mentioned above, you can also use bobby pins:
• Bend the pins to an L-shaped metal piece and insert it into the lock to hold it in place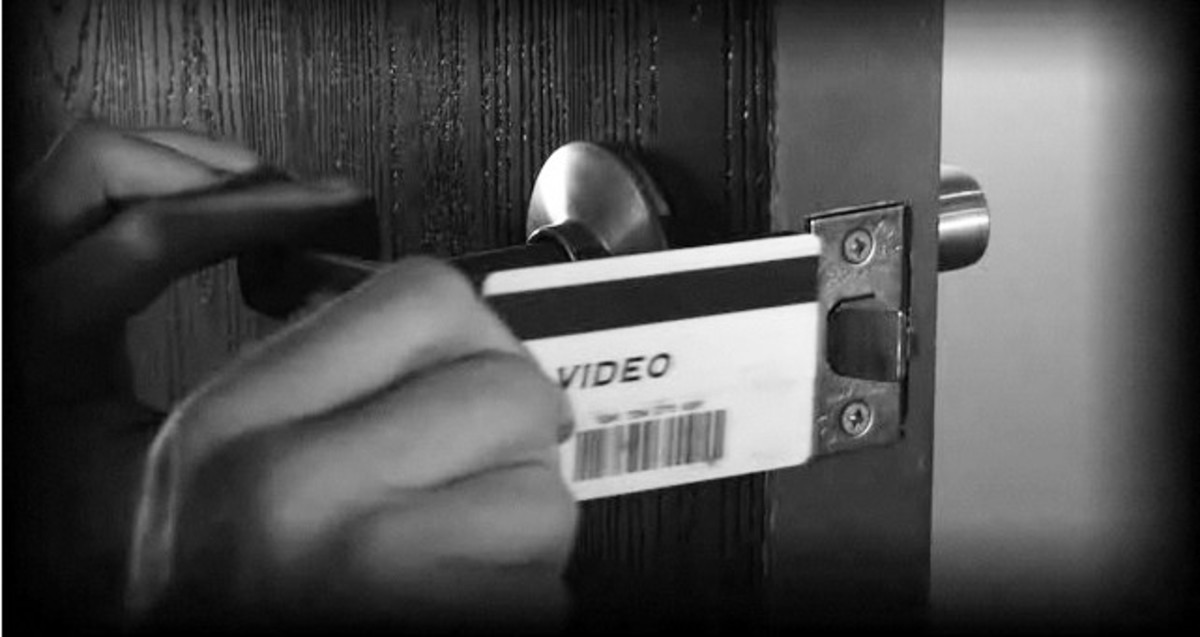 • Use the second pin to unlatch the door by bending it to a W-shaped metal
• When both pins are in place, push them upwards to unlock your door
Your credit card or any hard plastic can also unlock your door, especially if it has a spring bolt. However, you should use an expired card that you don't mind destroying. A loyalty card is perfect, but it should be firm enough. Wedge your card into the latch between the door and the frame and wiggle it around as you push the handle forcefully; it will disengage the lock.
If you are using an electronic lock and forget your code, you won't open your door unless you reset your code.
5. Check for Open Windows
All houses have several entry points, and sometimes you forget to lock them up, especially when you are running late. While leaving your windows open makes it easy for intruders to get in, it can also save you the trouble of standing outside when you lock your keys inside the house. Check your doors, especially the back door, and try to pry them open. You should also check all the windows; if you are lucky, you will find an open window. If it is a ground-floor window, you can wedge it wide enough and climb it to get into your house. However, if you do not find any open window, do not break your window to access your house. The repair costs are not worth it.
Conclusion
Losing your keys or locking yourself out should not cause frustration when you can call a local locksmith. They are well-versed with multiple lock systems and can get you into the house in record time.