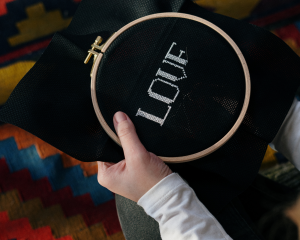 Are you one of those people who enjoy art and craft? You know how to create beautiful things with your hands. Does seeing what you have made with your own hands give you a sense of fulfillment, accomplishment? Then embroidery may be just the thing for you. Say it in stitches is known for both embroidery designs and the best embroidery software designs.
What is Embroidery?
Embroidery is a craft that can be a hobby or practiced for commercial purposes. It entails the stitching of designs on a piece of fabric for decoration or information. It uses needle and thread or yarn, but you may also incorporate accessories such as pearls, beads, and ribbons into the design.
Embroidery Designs
Once you have gotten what you need to get started, practice the 15 stitches that every embroiderer should know. These stitches will help you work on your designs. Various designs are influenced by culture, nature, and the purpose of the fabric being embroidered. There are so many designs that you can work with, depending on whether it is machine or hand- made, but here are a few:
Nature-Inspired Designs
These designs are inspired by nature and include flowers, trees, fruits, and insects. These designs can be made using your hands and a machine. They can be applied to clothes, napkins, handkerchiefs, and even be framed beautifully to be used as wall decorations. Various stitches are used for different embroidery patterns and designs.
Animal Inspired Designs
Animals are the main motivation here and these range from domestic ones such as cats, and dogs to wildlife such as giraffes, lions, and, elephants. Birds and dolphins are also popular designs that can be used in embroidery.
Food
Designs featuring varieties of food items are also another popular option, especially on aprons, oven mitts, and kitchen towels. These designs can also be framed and used as wall hangings in the dining area in homes or diners.
Abstract Designs
Abstract designs don't have a defined form or pattern and are usually suited for art pieces that are show-cased as wall decorations.
Logos
Logos are a representation of an institution or organization. Their purpose is to inform the viewer of who the institution or organization is without the name being present. An example is a logo on a school uniform or a company overall.
Written Designs
These designs are meant to communicate a message to the viewer, usually of a promotional nature. Examples of these designs would be polo shirts embroidered with the name of a golf tournament and the sponsor on the back. Towels or bathrobes with the name of the hotel embroidered on them.
Embroidery Software
This is the software that helps you create the designs and patterns that you wish to display. Embroidery software is mainly used for machine use, but there is a software that can be used for hand embroidery, for cross-stitching in particular.
There is a variety of software available in the market and what you need to buy will be determined by the type of embroidery designs you will focus on. Some of the best include: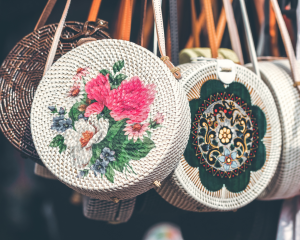 Embrilliance Essentials Embroidery Machine Software
It is compatible with Mac and PC. Using a USB drive, you can reproduce several embroidery types. The online guidelines that come with the software are not difficult to understand and perform. It permits you to adjust the design sizes, alter lettering fonts to your liking for initialing and modify the color of an already set image. However, you can neither change some areas of the design nor import the scanned images for conversion into a design.
Brother PED-Basic Software
It comes with a detailed manual and supports three different frame sizes. You can evaluate your design in the accurate colour screening and reproduce the designs for use as placement prototypes.
This software works with Brother machines and the embroidery software is not compatible with Mac machines. It also can't create embroidery patterns but has some designs built-in. However, you can download compatible designs from online sites, but the memory card is only 4 MB.
BuzzXplore v2 Premier Embroidery Design Management
This software is easy to use and has a highly intuitive interface. It also makes it easy to organize your designs. Conversion of designs is quick, easy and possible between almost any embroidery file format, including graphic file formats. It is Windows XP compatible through Windows 10.
However, it's not Mac compatible and won't change a graphics folder to an embroidery one.
 Amazing Designs LETTER IT! Embroidery Machine Software
This software gives you a 30-day probationary period. It enables use with a considerable range of colours that cater to those subtle differences in embroidery thread and has 35 fonts built into the software. Text can be created in vertical text, a circle, curved text, multi-line, and single-line layouts. Fundamentally, it can manipulate the text; however, you want it. It's however incompatible with Mac, prohibiting you from editing designs, except the lettering. Some individuals have felt that it was user-unfriendly and the company doesn't offer a printed manual for ease of reference. It only comes in PDF which may be difficult to read for some.
When buying embroidery software, however, make sure that it has:
Software to create manual embroidery designs
Vectorizers
Digitizers
Viewers
Transformers
Converters
Editors
Lettering programs
Organizers
Complete embroider CAD suites
How does it work?
You would have to install the software into a computer that is connected to the embroidery machine first. You then draw your design on the computer and then send the design to the machine. The machine will then stitch the design, pattern, or picture on the fabric automatically.
Machine embroidery usually has a better finish than that done by hand. Best machine embroidery is done by Say it in stitches.
In Summary
Embroidery can be a very fulfilling hobby and a great way to gift someone or spruce up an old outfit. It can also be a good money maker when done commercially working with marketing agencies.