Deciding to Undertake a Loft Conversion
The first issue to consider is why is a loft conversion is required and what is to be gained by having a conversion. While the cost of the work may seem quite high, these projects can cost upwards of £15,000, a successful loft conversion will add considerably to the value of the property and may provide sufficient space for a growing family. In the early stages of the development, it is also prudent to decide what the new space will be used for. It may be an extra bathroom, a bedroom, playroom for children, a study or private lounge.
For quality professional loft conversion advice and quotes, contact Cardiff-based CharlesJames Developments.
What are the types of loft conversion to consider?
The options for a loft conversion will generally fall into three categories, Dormer, Mansard and Roof Light Conversion.
The Dormer option is a relatively inexpensive choice for a conversion and is generally compatible with most UK homes. This type of conversion is usually acceptable to local authorities throughout the UK.
The Mansard loft conversion is suitable for renovating a terraced property as it provides more headroom by raising the party wall with the next door property. However, such a development may require planning permission to be granted. Due to the amount of work required, this can be a more expensive and time consuming option than a dormer conversion.
A Roof Light Conversion is the least expensive option but will not increase the available space in the loft area. The work here mostly involves installing larger window panels in the roof space.
It will be necessary to obtain professional assistance concerning the roof-style of the conversion as there are strict rules regarding what is and is not allowed. Choice of window styles may also be subject to local government restrictions. Homeowners may require double or triple glazed windows to be installed in the new space. 
What are the UK regulations regarding loft conversions?
The total area of the conversion must not exceed 40 cubic meters in the case of a terraced property and 50 cubic meters in a detached or semi-detached building
The conversion must not extend beyond the existing roof slope to the front of the property
It must not exceed the highest part of the existing roof
Exterior materials used should closely match those of the existing building
Balconies and or verandas are not allowed
Find the full list of UK government regulations here – https://www.gov.uk/guidance/building-regulations-determinations
Where to start
An obvious suggestion is to start by "clearing out the loft". The space may well be cluttered with years of unused items, emptying the space will provide a more accurate overview of what may be possible and make it easier for any trades to be able to provide specific suggestions and a quote.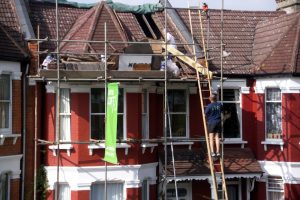 Once the loft is clear, consideration should be given to how the space will be accessed, installation of stairs, etc. At this stage it would be wise to consider what the space will be used for and what furniture or fittings, such as a bathroom suite, beds, etc. may be require. At this point it is also necessary to understand what services may need to be connected to the loft. Depending on the intended use, these may include, gas, water and electricity supplies.
Consideration for how to proceed should be taken at this point. Decide if it will be best to get a 'one-stop' specialist company to undertake the project or employ an architect, building surveyor, building contractor, etc. to oversee the planning process.
Possible issues
There may be several potential pit-falls to overcome before construction work can commence. Firstly, it is necessary to ascertain if planning permission will be required for the proposed work. Secondly, check if the property is located in a National Park or subject to heritage regulations. Finally, what work will be necessary to enable the loft conversion to take place, which may include
Moving existing water tanks
Checking that the roof membrane is sound
Checking sound insulation complies with building regulations
During construction work
Depending on the extent of the work being undertaken, making arrangements to vacate the property for a short period may be necessary. All household items in the vicinity of the work area should be either removed or covered with dustsheets to protect them from any damage. Items which may be particularly susceptible to dust from the work may include fabric covered furniture, electronic equipment such as televisions and hi-fi units and carpeting. 
Conclusion
The decision to opt for a loft extension may be made for various reasons which could include an increase in family size, a need for a home work space, an extra bathroom, etc. The project needs to be affordable and all costs should be considered before agreeing with any contractors or specialist who will undertake the conversion.