After the year we have spent in and out of lockdown, isolating at home, people are looking back to the minimalist house trend from the last few years. Minimalism is one of the major post-covid design trends with tiny homes, where "less is more" in design.
By reducing the amount of clutter and the size of their living space, people are becoming more mindful and environmentally aware. They focus on reducing the amount of space and material possessions needed to be happy. As such, shepherds' huts combine the aesthetic of a rural wood cabin and the comfort of today's necessities. Shepherd huts are available as an alternative for vacation locations, or house renovations or additions while being less expensive and easier to maintain over the year.
Historically used by shepherds in the nineteenth century Southern England, to rest in while moving with a herd of sheep across pastures, it now is a trendy new alternative to adding a new room to houses or a vacation destination. Shepherds huts originally only had a rudimentary kitchen and bed joined with a storeroom for tools and were strictly used to provide a space for the shepherd to rest and eat while keeping an eye on the sheep. Nowadays, shepherds' huts have different sizes ranging from 6.5 m2 to 41.6 m2 and are fully customisable with all the comfort one could ask. Depending on their sizes, they can be used as an additional bedroom, a garden den, glamping or fishing hut, or a studio for hobbies. Like tiny homes, they provide full kitchens, comfortable bedrooms with en-suite restrooms and cosy living rooms for larger sizes. These huts are known for being extremely durable with many huts from the nineteenth century are still standing, either in museums or refurbished for modern accommodations. Fully personalizable, they now offer a wide array of minimalist gadgets for an experience of "comfortable luxury" such as underfloor heating, built-in storages artistically hidden in furniture and walls to save space without losing their rustic charm.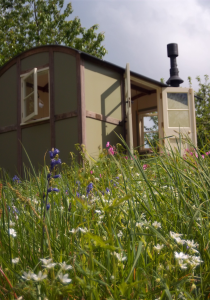 Glampers (luxury campers) from all over the world, enjoy their rustic looks and cosy atmosphere when vacationing in the UK. Many have now decided to include these huts as part of their house. With their cosy and warm interiors, they provide a comfortable space to enjoy natural surroundings, without suffering from the cold, the rain, etc.
To get a taste of what is available checkout The Shepard's Hut Company who have been making them for over 20 years.
Tiny homes, and therefore shepherds' huts, are also incredibly eco-friendly. They go as far as providing accommodations completely off-grid to jump back in time with the aesthetic of the hut. By reducing the space in need of light, heating and electricity, users also diminish their energy consumption without sacrificing comfort. Shepherds' huts have an incredibly environmentally conscious design by retaining warmth more easily due to the materials used and sizes, and some custom-designed even includes solar panels to power the rooms. Tiny houses are not only built to be eco-friendly but also as a social movement. By downsizing their homes, people are choosing to simplify their lifestyles by having less and improving the functionality of their smaller living quarters. As such, like in shepherds' huts, tiny houses have storage hidden under beds, sofas, or tables to make sure that everything fit in without looking too crowded.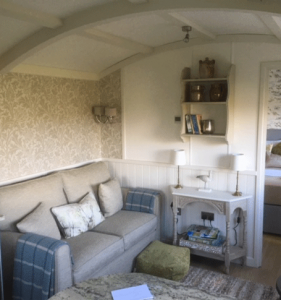 Shepherds' huts are designed with the notion of contemporary minimalism in mind with an old-fashioned charm. Contemporary minimalism is about choosing what is important, what matters and can provide mindfulness while fitting in a smaller space. The minimalist architecture of shepherds' huts shows innovative new ways to build living structures without disrupting the scenery of gardens, fields or woodlands with a structure that fits in the environment.
Either by choosing to live in a shepherds' hut, or to use it as an additional room without sacrificing the look of your garden, these huts feel homely and comfortable. Be it an artist studio or an alternative to a flat, they show a more mindful way to live peacefully in the great outdoors and to reconnect with nature without sacrificing comfort.