A non surgical facelift revolves around the procedure of lifting and pulling the skin to give a tight and smooth appearance. This cosmetic surgery is usually performed to address sagging skin around the lower half of the face. A more youthful appearance can be achieved by removing surplus skin and repositioning the original skin. 
With the highly-effective treatments available today, wrinkles and lines can be eliminated with a range of non-surgical procedures that are far less invasive than the one mentioned above. With no large incisions or scarring, no need for general anaesthesia or overnight recovery stays, the same rejuvenated look can be achieved without going under the knife. 
What is a Non Surgical Facelift?
To prevent the need for surgical incisions, significant scarring and pain and discomfort, a combination of non-surgical, minimally invasive procedures offer anti-ageing results. Not only is this option more convenient, but it is also far safer and more effective.
The most beneficial way to engage with non-surgical anti-ageing treatments is to work with a professional, experienced beauty practitioner. By attending a free consultation at Heidi Rose Aesthetics, you can discover the best options for your particular needs. 
Every face is different, and each individual will have their own idea of what they want their skin to look like. Thankfully, the skills and expertise of certified beauticians and their range of treatments provide the opportunity to wipe years off your age without major surgical interventions.
Anti-Ageing Treatments and Procedures
Dermal Fillers
Depending on your needs, dermal fillers are the core component of non surgical facelifts. This particular treatment uses hyaluronic acid to reduce the appearance of wrinkles, and fine lines and to increase the volume of the skin.
Dermal fillers can be injected into almost any area of the face. They can reduce the appearance of wrinkles between the eyebrows, prevent indentation of the lines extending from the edge of the nose to the corner of the mouth, and are commonly used to enhance or volumise lips. 
A single treatment of dermal filler can last between six and nine months. It offers a natural-looking revitalisation and the opportunity to control your looks by subtly changing the lines and contours of your face. 
Botox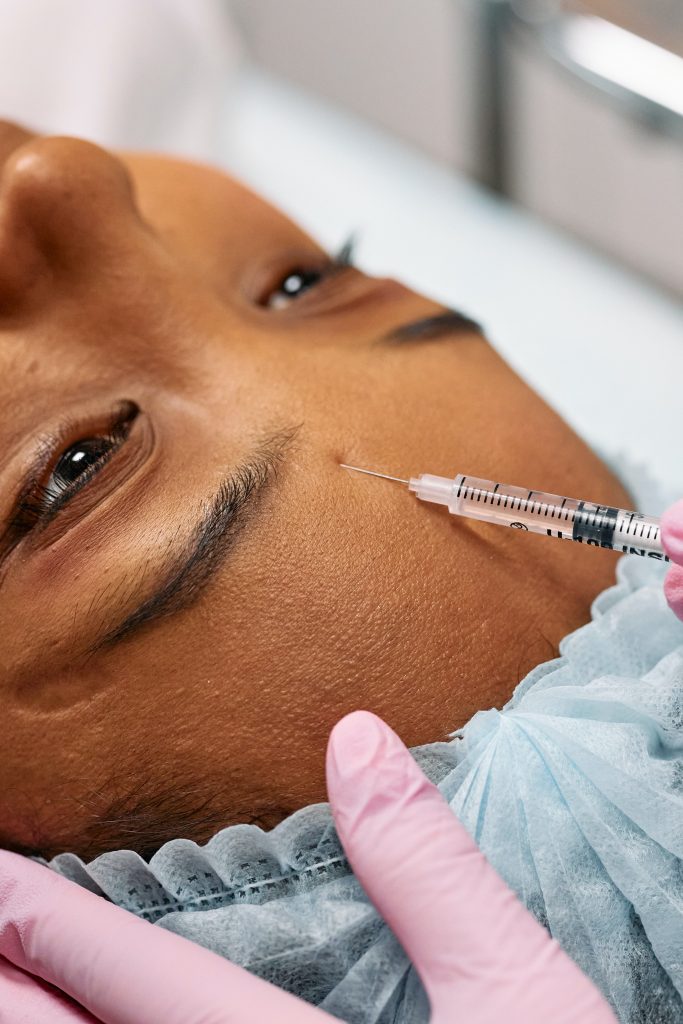 Another mildly non-invasive treatment that reduces signs of ageing is botox. This particular treatment temporarily relaxes the muscles in your face to smooth out wrinkles in areas where repetitive facial expressions occur. 
Botox is commonly used in the reduction of crow's feet around the eyes, frown lines between the brows, dimpled chins, smoker lines, and more. These treatments tend to last three to four months before wearing off, allowing you to try whether it is the look you want to achieve. 
Fat Injections 
Whilst this procedure is slightly more invasive, it is less intense than a surgical facelift and yet provides long-lasting results. Cosmetic fat injections involve the collection of fat from another area of the body using liposuction. The fat is then cleaned and processed before being injected into the face in the areas of concern.
The core purposes of fat injections is to enhance volume in the face, fill crevises and soften wrinkles. It is a natural and effective way of creating post-surgical results without committing to a full facelift procedure. 
Advantages of Non-Surgical Alternatives
Quick and Easy
Surgical facelifts can end up taking hours or days of your life to achieve a particular look. In just a few ten to thirty-minute sessions, the non-surgical alternative can provide the same, if not better results. 
Without surgical consultations, general anaesthesia, overnight stays and recovery visits, the non-surgical route seems far more time-efficient. Whilst you may need a consultation with your beauty practitioner and multiple sessions to see the full effect of the treatment, this will be far easier to fit into your daily routine.
No Pain, Little Discomfort
The majority of non-surgical anti-ageing procedures can cause some discomfort, but never enough to create any real pain. Certain injections may be more intense than others but local anaesthetics or numbing creams are always an option. 
Try Out Temporary New Looks
Without trying it first, you won't actually know how particular treatments will alter your appearance. With surgery, the procedure is non-reversible, you could be stuck with an appearance that you don't like.
Non-surgical alternatives are temporary measures to reduce signs of ageing. They tend to last anywhere from three to twelve months. Meaning you aren't fully committed to a complete change in appearance. However, if you enjoy the effects of the treatments, you can easily get top-ups.
Disadvantages of Non-Surgical Alternatives
No Dramatic Transformation 
If you are seriously unhappy about your appearance due to sagging skin, wrinkles or lines, there is only so much that non-surgical treatments can do. If you're looking for the dramatic transformation that comes with surgery, you may not find the results you are expecting. 
Non-surgical treatments tend to work overtime and often need maintenance to retain your desired appearance. Working with the right beauty practitioner is key to achieving your goals. As they can recommend the best and most effective procedures for your desires. 
Repeat Treatments Required
Unlike a surgical procedure, which fixes the problem there and then, non-surgical facelift alternatives will require maintenance. This is due to treatments wearing off over time as the body breaks them down or they lose effectiveness.
Whilst this can become expensive and repetitive, it enables clients to maintain their desired look without invasive surgery.