The ceiling could be one of the most functional barriers in our houses today. It assists in acoustics and firmly holds essential fundamentals such as lighting. The era where homeowners neglected the ceiling as part of their interior design plan is gone. Today, many people are focusing on the roof and keeping up with the latest ceiling designs. A ceiling design is more than just fancy support of the lighting equipment. In these modern times, you can go a notch higher and add attractive finishes and elements all around your ceiling. Many people love PVC ceiling panels for their simplistic yet stylish look.
Ceiling Panels
Ceiling panels make perfect covers for bathrooms and kitchens. These panels are suitable because of the humidity levels in these rooms. The ceiling panels are complete and require you to fit them once. Principality Plastics supply a wide range of ceiling panel options to choose from. They come in various stunning designs which, eliminates the need for painting, flaking and even carving. They are also cheap, easy to clean and require no maintenance. In addition, ceiling panels are re-usable. However, this benefit requires you to have mounted them using screws or staples. For these reasons, many people choose them as ceiling covers. Other current ceiling trends include:
Mirror Ceilings Designs
Mirrors arrest the most attention and, mirror ceilings are one of the latest designs. Mirrors can transform any room from dull to stylish. They bring light through their reflection ability and, they do not take much space. Ceiling mirrors generate optical illusion and magnify gorgeous architectural designs.
A ceiling with a mirror design makes lesser rooms feel spacious. They are a good choice when looking for a more contemporary vibe as well as a modern trend. Most homeowners blend mirror ceilings with mirror chandeliers and stunning pendant lighting to create a glamorous interior design.
It is important to note that there are specifically made ceilings mirrors. Get the one that you like and hire a professional to mount the mirror for you.
Carved Ceiling to bring a Vintage Look
Carved ceilings have for a long time been a desired interior design. This design is starting to trend again. As they say, old is gold. Vintage designs are increasing in value and attracting many fans. The design originates from houses of worship like churches and temples and has now entered into home interiors.
Carving is a labour-intensive procedure. It is also time-consuming and, therefore, this design is quite expensive when you include the time and cost of labour.
Timeless Mouldings for Frills
Wall trims, also known as mouldings are another trendy ceiling design. This design is popular because it produces an appealing transition between the walls and the ceiling. Even though this design is trending, it is known to be a traditional design in past homeowners. Many people like wall trim because you can design them for all your rooms. Unlike mirror designs, where you can only put them in certain rooms.
Wall trims also give homeowners a choice to play with colours. Homeowners can add bold colours in line with their taste for satisfaction. In addition, crown moulding aid in highlighting the architectural designs in the house.
Wooden Ceilings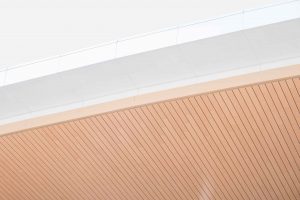 Wooden ceilings have been around for a long time. Woody elements inside your house provide some uniqueness and warmth to a room. You can choose a fully wooden ceiling or create a space and place the wooden ceiling there. Wood designs are also suitable if you love to create patterns. With wood, you can create beautiful patterns all around your roof. You can also choose slim panels that are an alternative to PVC Ceiling Panels.
Note that while wood ceilings can give warmth to a room, they can also produce dark spaces. As a homeowner, you don't want to feel like you are living in a cave. To change this, get suitable lighting and make the space brighter. You can also decide to paint bright colours on the walls.
Wall-paper Ceiling Design
Nowadays, people have realised to place the wallpaper on the ceilings and not just the walls. There are many wallpaper colours, designs, patterns that can best fit. Wallpapers blend the walls and the ceiling providing a continuous flow of style. If you choose wallpaper for the roof alone, it can magnify the ceiling from the rest of the room features.