Nowadays, everyone fancies a big screen and their popularity has become cliché. Sometimes, these big screens interfere with the interior décor, messing up the whole room. To break the monotony in an elegant, well-put, and modern house, homeowners are quickly embracing the newest technology in town, the TV mirror. It is a magnificent semi-transparent mirror that reflects light and acts like a big mirror when the TV is switched off. When the screen is switched on, the light illuminates through the mirror and projects the image on the mirror surface, acting as a TV screen.
This year in "Sarah Beeny's Renovate Don't Relocate," episode 22, the guest was none other than Overmantels TV Mirror who provided a solution to a couple who had lived in their home for 13 years and the monotony of their big-screen TV was distracting the aura of their lovely home. Sarah Beeny's TV recommendation was an Overmantels TV Mirror to create a focal point above their fireplace while still acting as a TV screen. She recommended the French Decorative Louis Philippe, a sophisticated and elegant mirror that has a double functionality – a stunning piece of art and an entertainment system.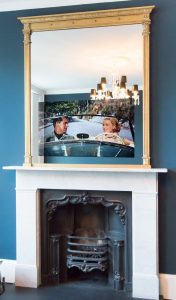 Benefits of Mirror TVs
Balancing style and entertainment
Many people shop for TV screens without thinking about how they would look in their living rooms. Modern homeowners prefer something more elegant that would complement their space rather than just being a big screen, therefore killing two birds with a single stone. The mirror TV is an excellent styling item that also serves as an entertainment tool.
The mirror TVs usually have an aluminium frame which helps add their aesthetic value meeting the requirements of every elegant household. Before purchasing the mirror TV, you ought to check the frames and the mirror quality to ensure that the image quality will be as good as you expect.
They are resistant to vibration and are energy saving
The mirror TVs have an electronic rectifier that ensures minimal power is consumed when it is on, alongside its ability to absorb shock from its environments, making it suitable for hanging over risky places, such as over fireplaces. The vibration absorption can also work to absorb the movements that come from the TV functioning.
You can have a customised frame and size
The best thing about mirror TVs is their ability to offer flexible sizes and frames for their clientele. This makes it easier for the customers to completely get satisfied with the design, be it a humongous screen to match their elegant living rooms or a small one to fit in the customer's bedroom. Considering that these screens come in customizable sizes, colours, and shapes, customers can get frames that completely match or complement their walls.
Performs double functions
On top of being a television screen, the mirror TV can be a mirror for the ladies to use while putting on some makeup. It functions well as a mirror because of its smooth surface and it reflects light well enough to give better visibility than the average mirror. This reflection is also beneficial in illuminating the room in which it is placed, acting as a secondary source of light.
It is a good space saver
Many homes, despite the size, suffer from space deprivation and incorporating a TV screen and a mirror is a great life hack that minimizes space and maximizes the allure of the item in a living room or bedroom. You can always watch a movie before bed and use the same screen to put on your makeup in the morning before heading out to work.
TV mirrors can be set according to the client specificity where they can adjust the display duration in between sequential display images and could be extended and abbreviated. For example, the screen can be used to display an image for an extended time to grab more attention. This feature will give your guests a jaw-dropping spectacle.
TV mirrors are designed to ensure that living rooms are not dominated by a huge TV and that a big stylish multipurpose mirror is the centrepiece. The highest technological advancements have been summed up to produce a perfect entertainment cum functional mirror for the buyers. The mirror-TV combination brings the best out of the latest entertainment and traditional mirror-making technologies to bring a multipurpose device to the world of tech-lovers and style addicts. We can incorporate most flat-screen TV with mirrors regardless of the TV brand and design of choice.